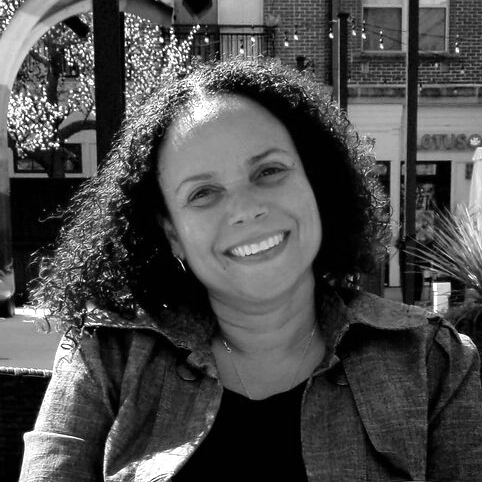 The Evolutionary Path of Jupiter + Access to Land
Pertula says her mother taught her, "I'm not better than anyone, and nobody's better than me." Respect and inclusion were living practices in her household, where family members come from a variety of socioeconomic backgrounds with some experiencing poverty, some who are in and out of prison, and others who are highly educated professionals. She credits the culture she grew up in, in Saint Lucia, for the ease with which she relates to everyone. In Pertula's presence, I feel elevated. I can feel her radiant self-respect and the way it invites me into a whole other exalted way of relating. I feel the blessings of Jupiter both in how she holds herself and in how she holds me.
Having grown up in a predominantly Black country and being the descendant of slaves, Pertula has been motivated by her connection to the Black community to work toward the vision that all people are humans regardless of their skin color and should be treated with dignity and respect.
In September 2018 in Dallas, Texas, Botham Shem Jean, a relative of Pertula's, was fatally shot in his own apartment by his neighbor, an off-duty Dallas police officer. It was a tragic experience for Jean's family. Then, after George Floyd was murdered in 2020, Pertula was lit on fire to take action. With a Master's Degree in Sustainable International Development and over a decade of social justice work already under her belt, she did some intensive Soul-searching into what the hurting Black American community needed and how she might respond.
During her nonprofit career in the field of sustainable agriculture, Pertula had been told, "African Americans are not interested in farming because of the stigma of slavery." So, she began researching the plight of the Black farmer and dis- covered, as she told me, "[Black farmers] have lost millions of acres of land through theft and discrimination. Blatant theft. The United States Department of Agriculture (USDA) and lending institutions have robbed Black farmers of their land. In 1920, there were over nine hundred forty-five thousand Black farmers, and today there are roughly forty-five thousand. Not solely because they're not interested in farming but because of racism and theft. As of today, there are farmers who are losing land because of discriminatory practices. It's systemic racism."
A Farmer's Access to Land
Pertula pinpointed the need—Black farmer's access to land— and decided to fill it. That's how Acres4Change was born. The organization's mission, as Pertula described, is to create economic stability through land ownership, professional development, and racial healing. The non-profit organization accomplishes this goal through acquiring land (via land donations, tax sale purchases, and outright purchases from capital grants) and putting it in the hands of people who have been discriminated against, giving them legal rights or access to the land.
Acres4Change does not stop there, though. The organization recognizes that legal rights to land are not enough for the success of Black farmers. That is why they also sponsor professional development and racial healing practices that support land recipients to be successful at the business of farming. Pertula explains that "a big component is therapy and racial healing for folks who have experienced trauma by [having to endure] racism."
In reaching out to her network of associates, Pertula discovered that often, Black farmers who are graduating programs and are ready to farm have no access to land. Pertula set about enlisting several experts and key players to work with her to remedy this. Support began coming in from everywhere. The University of Baltimore provided all their legal services pro bono; master of public health students from Cornell University assisted the organization with grant writing; and Virginia State University, University of Maryland Eastern Shore, Farm Alliance of Baltimore, Future Harvest, and the Black Yield Institute are all considering running the pilot program through their Beginning Farmer Training programs. Since its inception in July of 2020, the project has taken on a life of its own, and Pertula recognizes she is just along for the ride.
With the kind of skills Pertula possesses, she could easily have gone into more lucrative work. I asked her what motivates her to do work in which she prioritizes giving back over her own personal gain. She explained that in the Caribbean culture she came from, it is ingrained that you give back. She recognizes her experience in, knowledge about, and success with real estate and development can help others learn and benefit.
"I will be content when other people, whether they're family members or not, are also doing better. When individual lives improve, the whole society benefits."
Perhaps what is thought of as "philanthropy" in the United States is just a natural way of life for some cultures. When Pertula returns to her father's house in Saint Lucia, the front door is always wide open. Anyone can, and does, come in at any time. Pertula describes Caribbean culture as generally warm, welcoming, and community oriented. Neighbors look out for each other in a real way. They recognize no one can do it on their own, and they don't try to. To a large extent, grandparents live with their families rather than in retirement homes. They all have a hand in raising the young ones.
Their fabric of community is strong. They are a model for Jupiterian "welcome."